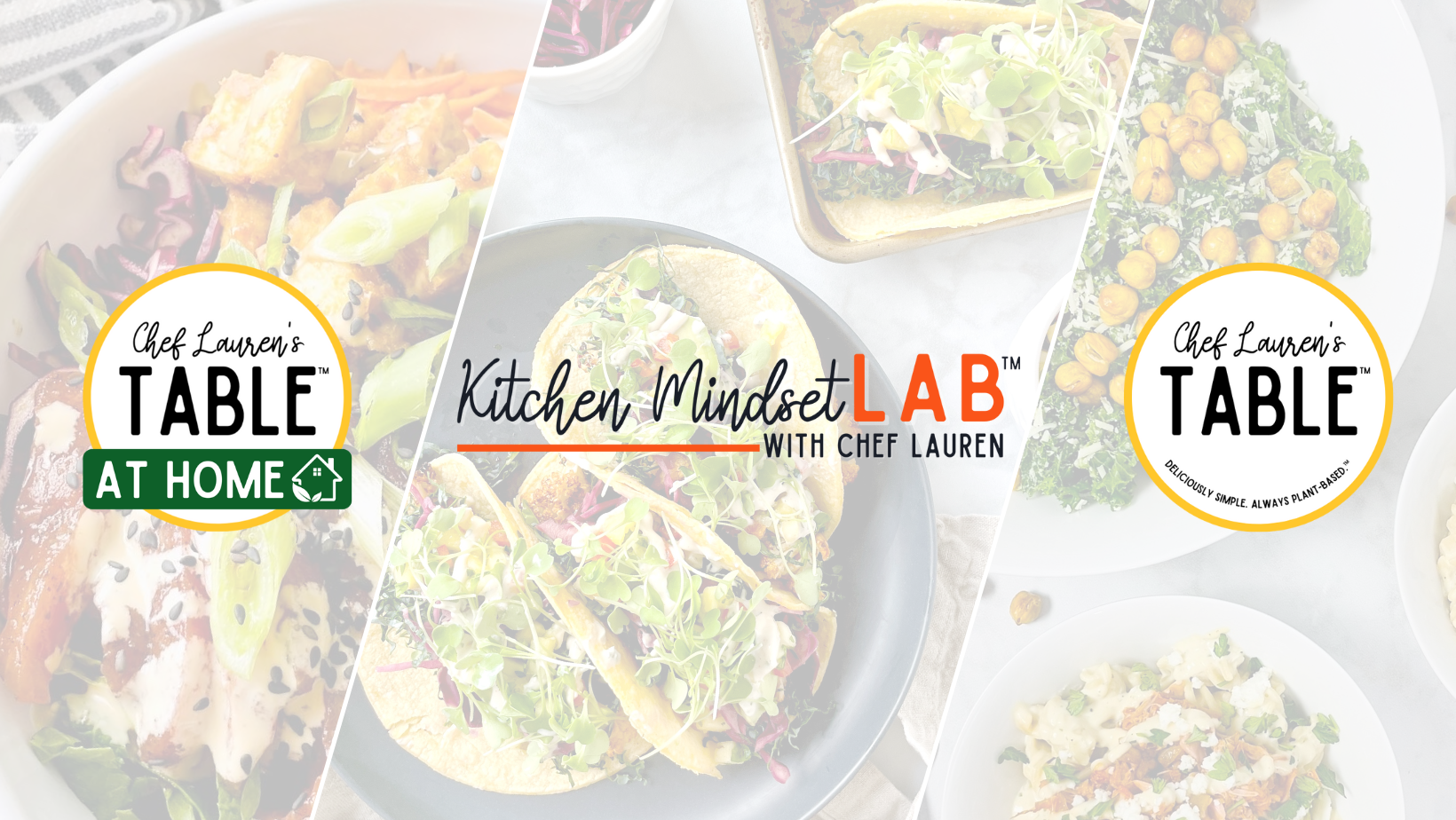 We Love Flavor
Life's too short to eat boring food. Period.
We're food snobs, and we're proud of it! But also want to make our short lives as long and delicious as possible.
That's why we're flavor forward, serving foods you'll find familiar, but with a plant-based twist!
We Love Health
Every bite has the power to heal or harm.
Plants are our favorite fuel, and one that keeps us in good shape to live a life we love! We love it so much, that we can't help but want to share it with others, so they can be their healthiest too.
All we ask is for open minds and empty bellies.
We Love Our Planet
At our Table, plant-based is our way of life.
We're total tree huggers, so it only made sense that our approach to food (and life!) helped to support a healthy planet.
Our menus are made with whole foods, sourced locally in New England when possible.
Welcome to Chef Lauren's Table
An inviting place where the food is deliciously simple, and always plant-based™. We plant seeds of change in open minds and empty bellies with one mission – to get more plants on more plates. Join us at the table and experience the flavor and function of food, as nature intended.
In Our Glass
The beverage enjoyed with our meal is just as important as the meal itself. That's why we carefully pair our menus with Scout & Cellar Clean-Crafted™ Wine, or non-alcoholic Curious Elixirs™, for a completely delightful culinary adventure.
On Our Plate
We believe that healthy plant-based food can be just as flavorful as it is functional, and just as approachable as it is unforgettable. That's why we set the table, and the tone, to serve a deliciously fancy plant-based menu that all of our guests will enjoy.
Our events are evolving, but we invite you to get on our email list to be the first to know when we set the table for you to join us in a big BIG way!
In your Home
Chef Lauren's Table is now available at Home. We're on a mission to change people's fuel source so they can level up everything in their life. Our "Homies" are busy professionals, and fellow business owners who appreciate having the lunch problem, solved.
Chef Lauren's Table is an unforgettable experience.
Whether you're just getting started on your plant-based journey, or looking to share your love of healthy and flavorful food with the people you love, Chef Lauren's Table welcomes eaters of all kinds.
We're not just about serving amazing plant-based food. We're on a mission to change the way people experience the flavor and function of their food. A healthy diet and lifestyle are way easier to stick to when you actually enjoy it. Here's how we help:
• Chef Lauren @ Home – Weekly plant-based meals for busy people
• Kitchen Mindset Lab – Virtual group cooking program
• In Your Glass – Wine lover? Swap your wine today!
Are you ready to dig in?!